Jenkins M Photo Credit: Hansila S.
You can fund this project by making your kind donation at:
Ekxang Community Resource Center
Introduction
In 2013, I (Jenkins Macedo) was privileged to have won a research grant from the Center of Global Food Security at Purdue University  to undertake a field research project in Laos in collaboration with the International Water Management Institute  in Vientiane, Laos.
In the photo: Georeferencing one of the sites of the project located 100 meters from the school site. In the photo is the Ekxang village Chief in the army fatigue, Mr. Tom and his daughter, one of our project farming family with the Hawaiian shirt, Ms. Khandala [to my right] Faculty member of the Department of Water Resource Engineering at the National University of Laos, Ms. Chantha [to my left] District Agricultural Extension Officer. Photo Credit: Hansila S. IWMI's Staff
The awarded grant was used to facilitate the implementation of my field research project in Laos towards the Master of Science degree at Clark University in Environmental Science and Policy . Thus, this fundraiser is intended to contribution back to the community in the form of a development project of some of their most urgent needs.
If you are interested in some of my works and those completed in Laos during my time there, please visit my website at INDESEEM and select "Field Trips" from the Category dropdown menu.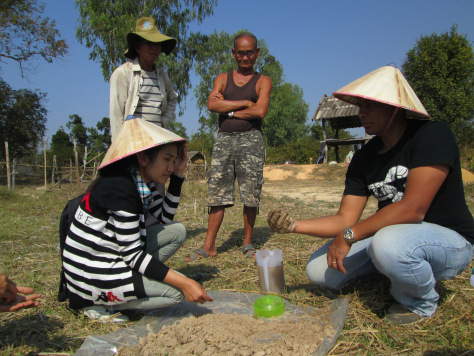 Jenkins conducting visual soil testing with Ms. Khandala and the farmers.Photo Credit: Mixay S. NUOL
During my work in Laos from December 2013 through July 2014, I was fortunate to work with farmers and other local stakeholders in Ekxang Village located 62 kilometers from Vientiane capital. The village has about 2000 people mostly from Hmong ethnic group who were settled there about 100 years ago. Ekxang is situated in the Vientiane Province, which is mostly lowlands where paddy rice farming is the main source of income and livelihoods support system. The village neighbors about six other villages in the Phonhong administrative district.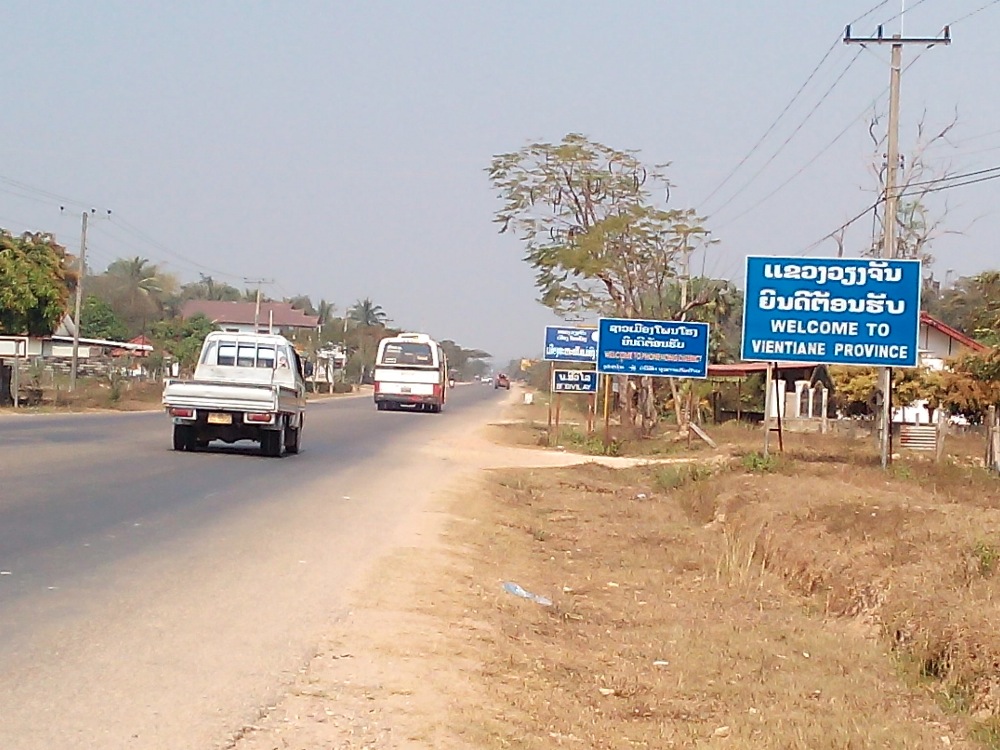 Welcome to Vientiane Province. Photo Credit: Jenkins M.
Ekxang village as many villages in Laos has few public facilities and infrastructures, such as a government-funded primary school, which is poorly furnish, a community health center with one paid nurse who is rarely accessible by the villagers, no library and educational materials for students and teachers are scarce if even available. Access to educational materials is a major challenge for both teachers and students. Teachers, students and their parents struggle to acquire the necessary local specific educational materials and supplies.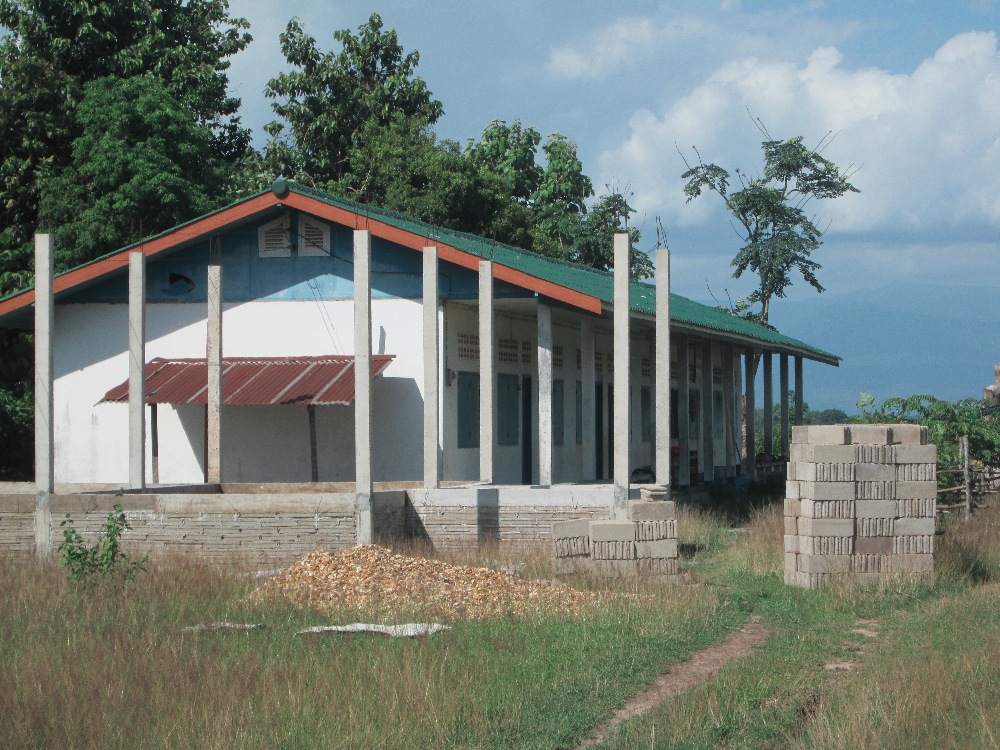 Newly constructed 6 classroom school building. Photo Credit: Bournmee M. IWMI's staff.
Parents who are mostly farmers have to struggle between providing school fees and educational supplies for their children against the decision to buy farm supplies for the next farming season. With the risk of farming pose by climate change in the forms of severe droughts, flooding and poor yield, parents and farmers at Ekxang and nearby villages are face with the same struggle each day.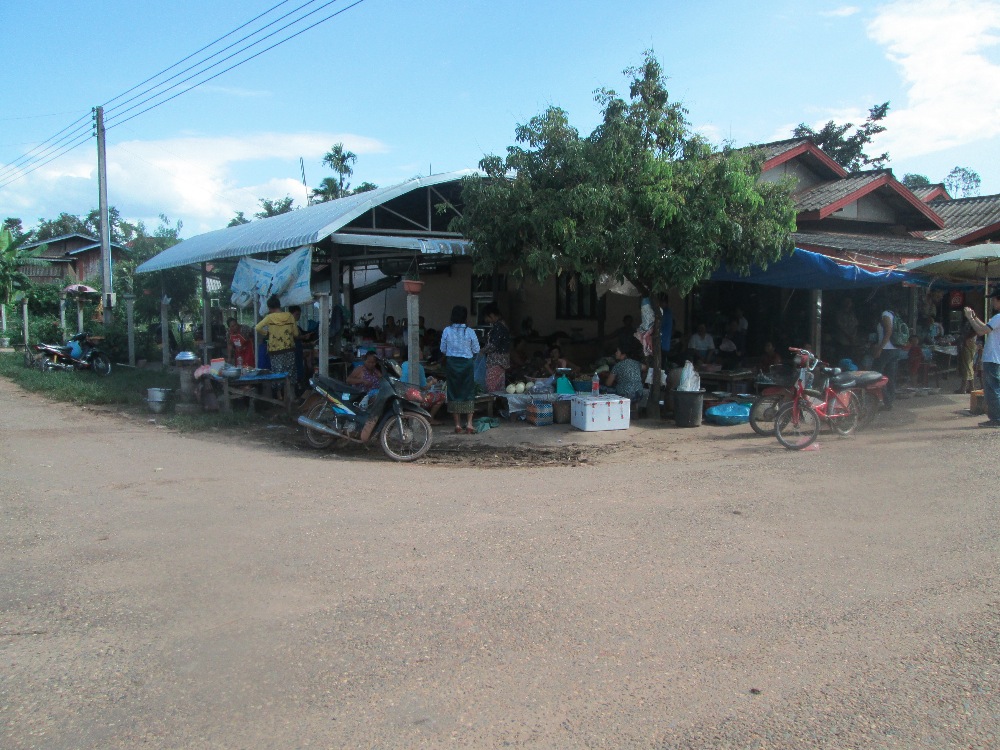 A panoramic view of Ekxang village market. Photo Credit: Mixay S. NUOL
It was always great buying and selling locally. Photo Credit: Jenkins M.
The provincial and district extension officers are doing their optimal best to reach out to local farmers with whatever limited resources that are available at their disposal to address some of the technical and non-technical issues farmers at Ekxang and other nearby villages continue to experience. During my work in Laos, I worked closely with the District Agricultural and Forestry Extension Officer (DAFOE).
Their centralized office located in the town KM52, in Phonhong district serves over thousands local farmers in villages and small towns. Their office has nothing, but wooden chairs, tables, empty closets with few stacks of papers, few postal boards of some of the common plants and farm animals diseases prevalent in the province. Anything beyond those has to be accessed from Vientiane, which takes several weeks or months to materialize.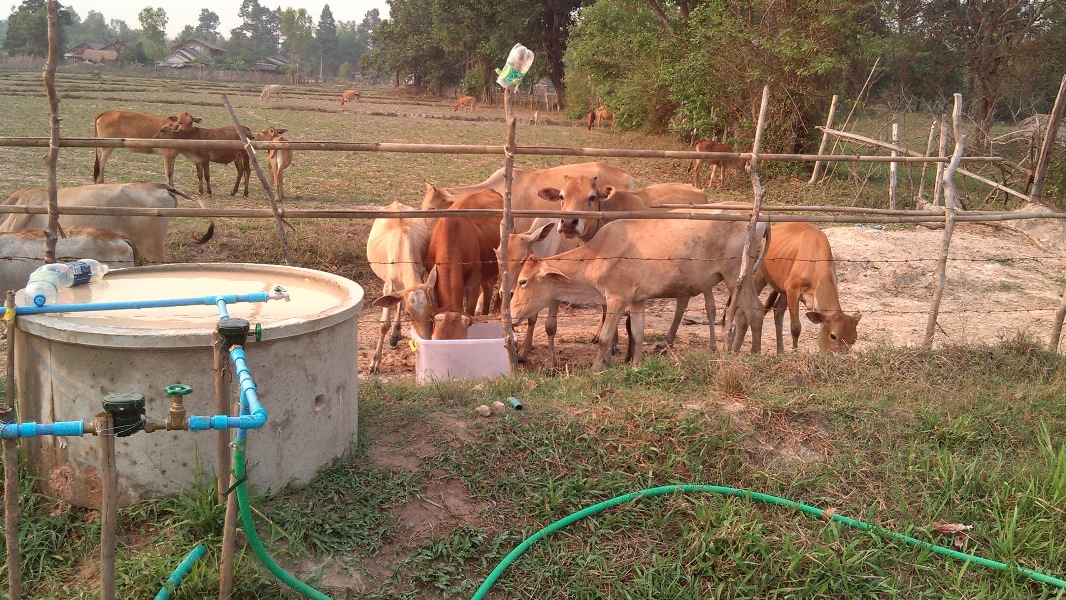 We provided water for our neighbors, but that wasn't enough.
One interesting experience and challenge working with our farmers at Ekxang village was also trying to gain the trust of their cattle. Most farmers own livestock, but not everyone has cattle. The monetary value of cattle far surpass those of small livestock and crop combine. Unfortunately, both of our project sites ( A and B) were directly on the route the cattle take each evening. As such, we had to be herdsmen ourselves why hoping our green fields in the middle of a totally dried landscape didn't elevate the appetite of cattle.
Study site A usually surrounded by cattle late evenings.
We tried, but eventually failed  when one afternoon I got a call while in Vientiane from the farmer (Ms. Tamda) that the cattle grazed our field to the point only the shoots of the water spinach were left in the soil. At least with the shoots still in the soil, we trimmed the field and reinforced the fence and the regrowth was amazing.
Lesson? Never underestimate hungry cattle because they will do anything to get over the great wall of China to get fresh and green leaves, if they have to.
The Project Overview
Objective:
The main objective of this fundraiser is to help raise $80,000.00 dollars from now to July 2017, which will be used to build the Ekxang Community Resource Center in Vientiane Province at Ban (village) Ekxang for use by the villagers at Ekxang and their neighbors in the Phonhong administrative district.
It is against this background and from my conversations with all the stakeholders that were involved in the project in Laos. The establishment of the community resource center (first of its kind in the province) will not only contribute to their resilience to climate change, but also contribute towards providing opportunities for their children to be empowered with skills and knowledge essential to preserve their cultures, enhance their knowledge and to engage with others from other communities. The community resource center will be a shared facility, which provides multiple services to the people.
The Ekxang Community Resources Center would be equipped with a computer lab with access to the internet, a library which contains textbooks in Lao language and other local languages as necessary and a section  with English and French textbooks. A section of the facility would be the Farmers' Seeds Bank, which will be managed by the local farmers' group at Ekxang, which actively works with the agricultural extension officers. Initial plans is on the way to create a business model for the seeds bank. The seeds bank is very important because farmers at Ekxang and other villages always purchase seeds from agricultural stores in the cities. Most of the seeds purchased from these stores are imported from abroad and are very expensive, not tolerant to environmental stressors, such as high temperature and are mostly linked to low yield varieties.
If the farmers are provided with the needed training, skills and materials, they can produce their own seeds year round without spending a dime saving a significant amount of money that can be used for other household needs or as savings.
An office for the district agricultural extension services would be made available and equipped with a computer, a printer, and basic field tools to conduct on-site soil tests, temperature measurements, soil sampling and processing tools, georeferencing equipment and training, etc. for farmers in Ekxang and nearby villages. The office will be equipped with two microscopes and associated materials to enhance their work in the field while at the center.
The Ekxang Community Resource Center will also have at least two conference or meeting rooms each equipped with a media control system, which will include a projector, a computer, speakers, microphone and flat screen television sets for presentations and videoconferencing.
The facility will also have two office spaces for the local Lao Women's Union and both offices will be fitted with office furnitures, computers, and a printer.
Lastly, the facility will include a playground for children. The primary school at Ekxang doesn't have a playground. We are hoping to use part of the funds to develop the open field at the school with a football pitch, a basketball court and a playground fitted with fun games for children between the ages of 1-15 years old.
Two generators will be purchased as a stand energy source.
The facility will also have a local staff office, kitchen, separate toilets for both gender, a community access room fitted with educational games and other resources. An office space will be provided for the local Chief at Ekxang to be used for his administrative work in the village, which will provide a form of security for the center.
Note. A complete breakdown for the budget will be provided shortly. 
I strongly believe that the Ekxang Community Resource Center, if funded and developed will bring more light to the farmers and their children and those of the neighboring communities. This will create an active environment, which foster engagement, learning and sharing.
Laotians are sharing, loving and hardworking people who believe in their national identity and diverse cultural heritage. The resource center, if funded and developed, will continue to add to these essential values.
The farmers at Ekxang village are amazing! I believe and trust that with your generous donations or contributions, and the eventual establishment of the resource center, that the people of Ekxang and the surrounding villages will be happy.
The full contributed amount would be used to acquire the needed construction materials and the equipment to furnish the building.
Land Acquisition Contribution
The local government would be able to provide land for the project.
Facility Leadership & Governance 
Ekxang Community Resource Center will be under the direct supervisory leadership of the local farmer's group at Ekxang village, which will include team members from neighboring villages to form part of the supervisory team. The head supervisory role will be rotated annually by general consensus of team members.
Sustainability 
Sustainability is at the heart of this project A "Commons Access" fee will be designed base on consensus and with both the short and long term goals in mind.